Creation of FloridaWild Veterinary Hospital Complex
October 2, 2001 to August 20, 2007
Introduction
Welcome to FloridaWild Veterinary Hospital and The Funky Mutt Market, a unique one-of-a-kind facility for dogs, cats, exotics, birds, reptiles, and wildlife. This award-winning complex consists of a state-of-the-art veterinary hospital and pet shop offering a variety of services for your pets' healthy life. But what you visit now was once a far different story!
The project began when Dr. Erin Holder's parents, Maggie and Ron Hall, purchased the historic five building complex October 2, 2001 on Dr. Holder's 25th birthday. Restoration and adaptive rehabilitation were completed in six years and 28 days later, August 20, 2007, the date intentionally chosen on the Hall's 42nd wedding anniversary.
The four Arts and Crafts Bungalows and one Mission style building were constructed between 1925 and 1933 using stucco on lathe. The complex consisted of a vacant single family residential home and a garage apartment located at 441 South Woodland Boulevard. Adjacent were three buildings facing East Euclid (111, 113, 115) containing five apartments and a storage unit. The Woodland Boulevard complex had been vacant for several decades, the roof caving in on the garage apartment. The Euclid property was fully occupied. All five buildings were in various stages of decay, unfit for safe habitation and a blight on history DeLand. Neglected for years, the entire complex, owned by separate families, was slated for purchase by the City of DeLand for demolition in oder to build a Intermodal Transportation Center.
Dubbed the "Adobe Dumps" by Dr. Holder's husband, Justin, the complex encompassed a clutter of trash, stench, and crumbling walls. Having restored numerous historic buildings, including South Carolina's longest operating 1895 public school (www.MarionCountySCMuseum.com), Maggi saw the potential to create a unique commercial venture that would draw the Holders to DeLand. Between the buildings' personality and location, the family felt it an ideal venture for Dr. Holder's veterinary hospital which she planned to name FloridaWild.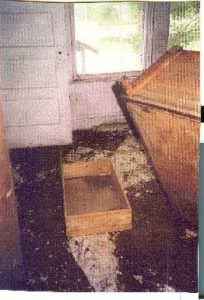 After the family visited the site, they walked across the street to sit in the grass and discuss the project. Maggi's favorite story about Ron was that as his eyes filled with tears, he pleaded, "Maggi, please don't do this to me again." Her response, "Don't worry, this is going to be easy, only a couple of years." Oh, how wrong she was.
In 2002, Maggi, a retired 30-year veteran as a public-school Learning Disabilities Clinician, moved her new real estate office, West Volusia Properties, into the renovated building facing Woodland. From her second floor office as contractor for the massive project, she would oversee work. However, Erin, Justin, Ron, and Maggi did their share of demolition, cleaning, tiling, painting, stripping and staining woodwork, and landscaping. When laying grass, they laughingly called out, "Green side up!" But Erin and Maggi weren't laughing when they almost set fire to 115 while stripping gooey stain from the woodwork.
Erin worked for two years at a veterinary clinic in Orlando but Maggi, worried about Erin's commute, woke up from a dream with the idea, "Go mobile." She excitedly called Erin who said, "That's crazy." After Erin talked with Justin, who thought the idea was terrific, the family purchased a van. Erin gave her notice at her employment and June 2003 Dr. Holder became the first mobile veterinarian for house pets in Volusia County. She worked from the basement of Maggi's real estate office, driving her van to appointments and renting operating room space from a nearby veterinary hospital.
In 2004, the ground floor of the middle building (113) facing Euclid, was complete so the hospital moved from the dark basement of 441 South Woodland into a bright sunny room. As each unit of the former multi-family complex was rehabilitated, the veterinary practice expanded.
Four years later, Maggi hired a carpenter who lived on site for two years as he oversaw stages of reconstruction on the original buildings. When his work was complete, he moved and the Holder's took his apartment located where the Africa House is. After he left, Dr. Holder realized she would need much more space so buildings 113 and 115 were linked by a large two story addition. When the addition and the three-story building were nearing completion, the Holder's moved into the second floor of 111 so the middle building could become a part of the hospital. After the rooms on the ground floor of 111 were remodeled, the Holder's moved off site and the second floor was converted to a staff lounge and offices with the ground level becoming four exam rooms. Throughout the remodeling stages, ERin named each room and selected paint colors.
The longest, most arduous work was on the 3 story building, 115.
Blinded by love and commitment to preserving historic buildings, what Maggi promised would take a "couple of years", seemed to last forever. Fourteen 30-yard dumpsters hauled away debris, dozens of workers were employed from the county's Labor Finder's program, and city employees never complained as week after week, they loaded trucks and headed to the dump.
Finally, agonizingly, after years of labor and expense, FloridaWild Veterinary Hospital was complete. The Hall-Holder Family and FloridaWild Doctors and Staff celebrated with an open house and tour of the facility. After the Celebration, the Hall-Holder Family breathed a sigh of relief. OVER! But is a project of this magnitude ever "complete?" No, because Dr. Holder and her dedicated veterinarians and staff keep creating more ways to help animals.
In 2012, the Halls gave the two buildings facing Woodland to FloridaWild in order to expand medical services. In 2019, a building was constructed behind the main building on Euclid to house surgical and dental suites. The Funky Mutt Market was created and began offering play dates for dogs complete with an in-ground wading pool and artificial turf, toys, and careful monitoring.
Dr. Holder developed a holistic approach to FloridaWild's Veterinary Services. The doctors and staff are dedicated to providing compassionate and outstanding medical, dental, diagnostic, and surgical care for dogs, cats, birds, exotics, and wildlife. The staff proudly offers an integrative approach to veterinary medicine. By combining both Eastern and Western Medicine, FloridaWild is able to deliver the best possible outcome for animals. FloridaWild's doctors also recommend minimizing vaccines in accordance with The American Animal Hospital Association. The hospital's veterinarians believe nutrition is the foundation of pets' health, thus the Funky Mutt Market offers high quality foods and treats including raw diet nourishments.
FloridaWild offers a variety of services in addition to basic veterinary care, including, acupuncture, canine rehabilitation therapy, orthopedic manipulation therapy, homeopathy, and Traditional Chinese Veterinary Medicine. Quality veterinary care is never an accident. It is always the result of sincere intention, dilligent effort, and purposeful direction and wise decisions. FloridaWild's doctors look forward to sitting down with clients to devise a total health plan for their furry, feathered or scaled family member, so they can "Help your pets live their best lives."
A former complex of neglected and dilapidated historic properties slated for demolition, now sparkles with pride as cherished animals and their caring owners enter the gates to receive the excellent and tender medical attention they deserve.
Demolition, Reconstruction, and Construction
Interior walls and floors between levels were gutted to exterior studs; new studs were aligned next to existing exterior studs and walls to strengthen their lower and upper-level exterior walls.
On the three Euclid buildings, ground level concrete floors were excavated 18″ for code height, the ground reinforced with new footers and studs, concrete re-poured, then tiled.
The middle building facing Euclid, restored on both floors, began to collapse. Two wenches and chains placed through upper windows slowly pulled the building back to its original height then massive beams were installed under the roof running east and west through the chimney to strengthen the structure. Tony Spaziani, a Lake Helen preservation contractor, literally saved the building!
The Euclid courtyard concrete and outside parking pad concrete were removed, the ground leveled, then concrete repoured. The large parking lot next door was paved. A wall, columns, and gate were built. Fencing was installed throughout the compound.
On the Euclid Avenue complex, all windows, roofs, plumbing, electrical were replaced. Central HVAC, security and phone systems were installed. Additional bathrooms were added.
An underground drainage system, irrigation system, tropical courtyard, tiled fountain, extensive landscaping, and decks were completed. Diseased trees were removed. Foliage and trees were planted throughout the five-building compound.
All buildings were painted, hardwood floors refinished, and new floors covered with hardwood, tile, or linoleum.
Exterior stucco was removed in sections on all five buildings then replaced replicating original stucco pattern. Asbestos shingles were removed from the garage apartment, the sides repaired and stucco added. A deck was build. The downstairs was remodeled for storage, washers and dryers. Then the upstairs of the garage apartment was rented for a living quarter until it was needed as a pet boarding facility.
Room layout in all buildings was reconfigured for practicality, safety, and privacy.
The two story building had woodwork and flooring replicated from the original in the older buildings. Thus, no one can tell where the old and the new meet.
Handmade porcelain Arts and Crafts tiles were installed on the fireplace in Main Reception. The fireplace was painted to resemble wood though it is completely concrete!
Doorknobs throughout are handmade porcelain Arts and Crafts.
Original Features
Woodwork and fireplaces in Main reception and Africa house. New bead board was needed in Africa House due to dry wood termite infestation.
Africa House ceiling, beams, and green pain had been hidden by two drop ceilings. When the ceilings were removed, a surprise awaited the owners.
Beams, floor, walls, and woodwork in Main Reception.
Lighting in Main Reception, same location with new Arts and Crafts fixtures installed.
Windows in center and east buildings were replaced with replica of original thanks to a matching restoration grant from the City of DeLand.
Recognition and Awards Connected to the Restoration
2004 Southern Living – April
2004 Matchin $20k grant from City of DeLand for window restoration
2005 Apgar Faith, Hope, & Charity Community Service Award
2006 American Bungalow – February
2006 Florida Trust for Historic Preservation "Individual Achievement Award"
2006 Florida Main Street "Outstanding Economic Restructuring Program"
2006 Florida League of Cities "City Citizen of the Year"
2007 Stetson University – Spring/Summer
Extensive media coverage from beginning to end including newspapers, magazines, and TV
2020 Garden of the Month, DeLand Garden Club, January (article in national newsletter)
Call us or Schedule an Appointment Online

Meet With a Doctor for an Initial Exam

Put a Plan Together for Your Pet